The ultimate platform for monitoring vendor spend and comparing it to like companies or organizations.
Designed to meet the specific needs of the Global 5000 C-Suite, our highly visual interface provides executive and practitioner-level visibility into IT and MarTech spend in real time.
Gain better insights into spend with real-time data.
We've designed our products to meet the needs of Global 5000 executives and practitioners.
Our tools service C -Suite industry leaders and management teams.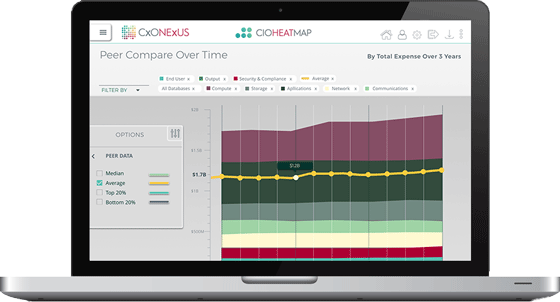 Instantly Transform IT
Vendor Insight into
Strategy Advantages
Chief Information Officer
Rapidly Turn MarTech
Vendor Analysis into
Competitive Advantage
Insights in Real-Time
Directly from Your
Company's Accounts
Payable System
Tap into Vendor
Intelligence with a
Single Glance
Chief Procurement Officer
Designed to Provide
Vendor Managers
Spend Transparency in
Real Time
Vendor Negotiation Leverage:
Quickly determine which vendors command the most company spend, and review peer data to better understand share shift or appraise emerging vendors.

Identify  Inefficiencies:
Rapidly address high-cost and low value vendors and applications.

Visualize the journey to Hybrid IT while offering a comparison point to similar companies.

Alignment and partnership tools,  allowing effective communication between business units, finance, IT, and marketing
Providing Data as a Service for the C-Suite
Our Heat Maps are built by corporate leadership, for corporate leadership,
to manage, monitor, and optimize vendor spend in real time.

Analyze vendor spend using comprehensive data visualization tools that source data directly from your company's accounts payable system.

Identify inefficiencies and redundancies rapidly using drill down menus to assess individual vendor activities.

Compare vendors against peers to benchmark spend and negotiate better agreements.