Unlike generic products that source information from surveys,
which are often completed by the wrong people and capture out-of-date and incorrect inputs….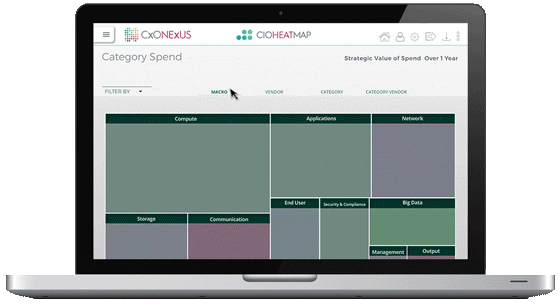 Our products cull data through a
real-time feed
from your company's
accounts payable system
generating
visual heat maps
that provide clear insight into vendor spend.
See Your Data Mapped.

Make Changes In Real Time.
How It Works
CxO NExUS offers aggregate spend data from accounts payable systems to provide visibility, accountability, identification of efficiencies, purchase leverage, and costs savings to IT and MarTech investments, vendor activities, and output measurement.
Our powerful software uses Artificial Intelligence to add business value through advanced analytics, intelligent processes, and advanced user experiences.
Use our intelligent applications to get a bird's-eye view, or drill down to examine detailed vendor information including transaction and buyer information.

Level 1: Overall spend by category
Level 2: Overall spend by category with vendor information overlay
Level 3: Overall spend by individual category with vendor information overlay
Level 4: Vendor detail by transaction and buyer.
Use our built-in KPI performance monitoring features, or customize to suit your company's specific needs.
Advanced Reporting via Aggregation
CxO NExUS makes it easy to track your company's aggregated quarter-over-quarter spend with views that allow you to review overall, category, and vendor spend changes.
Compare with Peer Data
Gartner lists industry peers as most trusted source of industry information, but it's difficult to come by data that hasn't been tainted by analyst spin or bias — until now.
With CxO NExUS, you can benchmark with
real-time peer comparisons of category and vendor historical spend data.

For busy CIO's and their leadership teams, the CIO Heat Map is a revolutionary approach to vendor management. By pulling vendor activities from your accounts payable system in real-time, you can easily asssess which are performing well and which need to be addressed.
Through our sophisticated peer comparison platform that leverage data across you industry, you're able to benchmark against peer IT spend activities and adjust your company's own activities in real time.
CMOs in charge of millions in marketing spend can now rapidly identify which MarTech providers are providing value and which are causing bloat. As corporate marketing spend continues to increase, it's more important than ever to ensure you're getting the best value for every marketing dollar spent. Our CMO Heat Map offers fact-based data analytics and provides decision support insight to marketing, procurement, IT, and finance leaders.
We also tap into marketing industry peer networks to provide unbiased data into spending trends, helping CMOs make more informed decisions as to where to put their marketing dollars.
In-depth Insight:
Instantly assess your company's category and vendor expenditures, including purchases made through resellers and by business units.
Peer Benchmarking:
Seamlessly compare your category and vendor spend to like companies in real time.
Aggregated Data:
Tap into the insights derived from billions of dollars of peer spend to assess vendor and category changes over time.
Providing Data as a Service for the C-Suite
Introducing the




Visual Fusion Engine (VFE)

™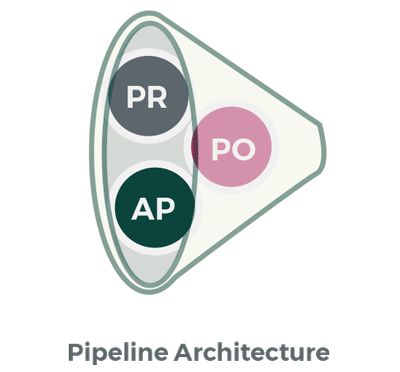 Our powerful Visual Fusion Engine (VFE) technology enables complex visualizations and deep data insights. We built the Visual Fusion Engine (VFE) upon a high-performance, highly scalable, fault-tolerant pipeline architecture that leverages stateless and streamed data.