Gain insight on
industry spending and
vendor performance,
without analyst spin or bias.
CxO NExUS is built for corporate leadership, by corporate leadership.
As experienced corporate leadership professionals, we understand the challenges of managing, monitoring, and optimizing vendor spend. After encountering our own difficulties using generic finance and procurement systems to effectively monitor organizational spend and vendor sprawl, we embarked on a mission to create a platform that provides this information quickly, seamlessly, and in real time.
Through interactive and customized Heat Maps, CxO NExUS helps Global 5000 CIOs and CMOs, CFOs, CPOs, and VMOs leverage data to increase efficiency by providing automated, role-specific views that simplify and optimize category and vendor spend management tasks. Our suite of services are proven to save money and enable more informed, data-driven decision making.
From the Number One Most Trusted Source of Data: Your Peers
Industry peers are the most trusted sources of intelligence yet the most difficult to access at scale (see the Gartner Influence Pyramid). CxO NExUS provides benchmarketing capabilities by aggregating billions in corporate spend across industries. Using applied Data Science, we provide deep insight on industry spending and vendor performance, delivered transparently with no analyst spin or bias.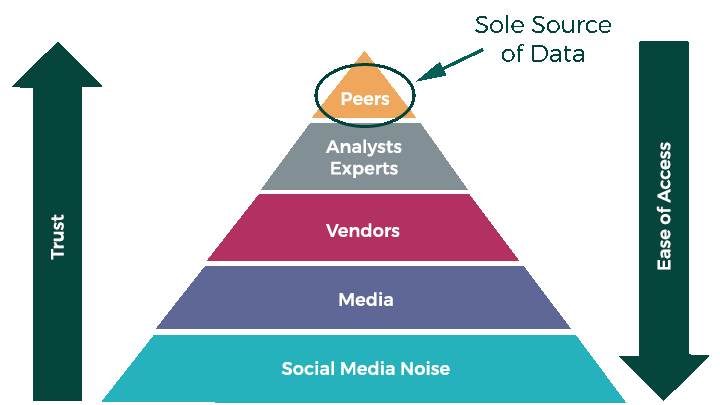 Providing Data as a Service for the C-Suite
Reside at the Nexus of Three Constituencies

Corporate Leadership regard peer groups as their number one influence for buying decisions. CxO NExUS is leveraged for cost visibility, spend 
optimization, and a peer benchmarking platform.

Institutional Investors rely less on analyst opinion and use factual CxO NExUS data to make critical investment decisions.

Technology Companies depend on CxO NExUS data to understand market spend change and keep a sharp eye on the competition.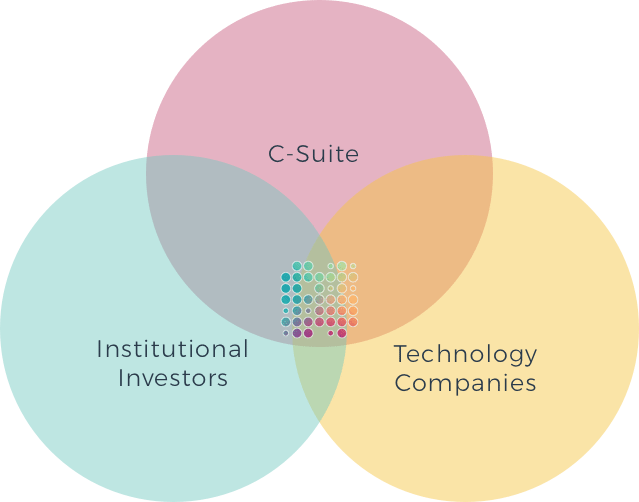 Ken Male, Founder & CEO
With more than 25 years of leadership positions in IT research, Ken Male possesses a deep understanding of how C-Suite executives leverage fact based data to improve decision-making. Male's background includes experience working in senior and executive roles with Gartner, Giga (acquired by Forrester), Apptio, and Jupiter Research (also acquired by Forrester).
In 2002 he founded TheInfoPro (TIP) which was acquired by The 451 Group in 2011. TIP quickly rose to become the "voice of the customer" data source for the IT ecosystem, by building out a peer community of Global 5000 decision makers that were interviewed in six month cycles. The actionable, fact based data products, delivered with no analyst spin or bias, became industry standards including the: Technology Heat Index™, Vendor Vulnerability Index ™, Customer Experience Matrix ™ and Market Window of Vendor Ratings.
Male has leveraged his vast experience with Global 5000 companies, vendors, and investors to make CxO NExUS the standard for demand side IT and MarTech vendor spending.

Theran Lee, Founder & CTO
Theran Lee is an industry veteran with over 30 years of experience in technical and leadership positions in technology and financial services.
Lee's experience includes a Fortune 400 financial services company with $4 trillion in assets where he was a registered broker who lead a variety of technology teams, directing large infrastructure capital budgets. He was responsible for components that handled millions of revenue transactions a day. Additionally, he has lead a regional team of systems engineers at a Fortune 20 telecom services company, deploying complex internet solutions to enterprises during a period of rapid internet growth. He has also been on technology teams at a portfolio management company used by large financial services companies managing $18 trillion in assets, and at a leading open source accounting software firm.
Lee, recognizing the limitations of the tools and information currently available, utilizes his hands-on experience leading enterprise IT organizations, managing hundreds of vendors, to build CxO NExUS solutions for IT professionals designed to solve today's IT challenges.