Sebastien Masclet joins CXO Nexus as its VP of Data Products
Mr. Masclet Brings Benchmarking, TBM and IT Strategy Expertise to the fast-growing company
For immediate publication
New York – September 17, 2019 – CXO Nexus today announced that Sebastien Masclet has joined CXO Nexus as its VP of Data Products. Mr. Masclet is a Technology Business Management and benchmarking expert, using data to inform strategic IT decisions, such as digital transformation, cloud migrations, mergers and acquisitions, contracts negotiations, and financial planning and forecasting.
Mr. Masclet was formerly the Director of the Technology Business Management team at Hearst Technology, laying down a framework to reconcile IT costs for business, technology and finance executives. Prior to Hearst, as a Principal Consultant at ISG, Mr. Masclet was instrumental in building the Technology Business Management service line and conducted IT benchmarking and performance assessment projects for companies in multiple countries and industries.
As the lead in developing the CXO Nexus products and solutions, Mr. Masclet's deep domain expertise in IT Benchmarking and Data Analysis applied to solving business problems will impact the evolution of the CXO Nexus InCight™ dashboards.
"Sebastien's deep and broad knowledge of Technology Business Management and technology cost transparency is a tremendous gain for CXO Nexus. As the leader driving our Product Roadmap, Sebastien is the perfect addition to the team, bringing deep understanding of our customers' pain, the complexities of how to solve for cost transparency and informing our development efforts with a C suite mindset baked in," says CEO Ken Male.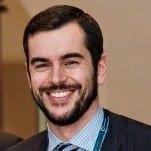 "I'm very excited to join CXO Nexus. This is the kind of platform I needed in my previous roles, a product that leverages automation to provide quick and valuable insights about my own company and my peers. I'm thankful to the leadership team for their trust and look forward to this adventure", said Mr. Masclet.
Sebastien Masclet is a graduate from Ecole Centrale de Lyon, with a master's in engineering. Mr. Masclet is a passionate rugby player, and an advocate for women in technology initiatives.
About CXO Nexus
CXO Nexus, named a Top 10 AI Platform by CFO Tech Outlook in February 2019, applies AI and Machine Learning to the daunting tasks of classifying, standardizing, and normalizing vendor spend data. As an agnostic overlay to all Financial Systems, organizations can now control costs more effectively, manage their vendor relationships, and leverage a platform designed to enable collaboration across the business. CXO Nexus is an Extension Partner with the SAP Business Network and available on the SAP App Center. CEO Ken Male was recently on a panel moderated by Laura Noonan, US Banking Editor, Financial Times, discussing "The role of the CFO in owning data" at the Financial Times CFO Dialogues USA on September 17th in NYC at the Westin New York in Times Square.
Contact us at 833-CXO-DATA or sales@cxonexus.com or visit us at cxonexus.com.
For press inquiries, contact salger@cxonexus.com